OFFICE SPACE AT THE HIGHEST LEVEL
Sky Bar
Restaurant
Very high parking standard
EASY PARKING WITH DIGITAL SMART PARKING
Techtower works with Digital Smart Parking, a web-based program that uses license plate recognition. You provide the license plates of employees and visitors online. They can then enter the garage and park without a badge. Because the system automatically calculates the number of cars entering and leaving each company, you can use more parking spaces than you have rented.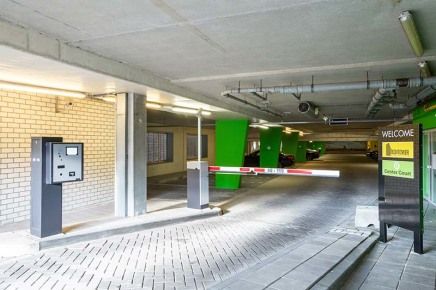 PARKING IN THE FLIGHT FORUM GARAGE
Is the car park of Techtower full? Then your employees and visitors are directed to the adjacent Flight Forum Garage. In this garage they can drive through to the connection with Techtower. The Flight Forum Garage works with Digital Smart Parking..
You have the option of taking out a subscription for your employees. Multiple passes are issued per subscription. In the Flight Forum Garage short-term paid parking is also possible. You can order exit cards for your visitors from the landlord.